As a single exercise movement, rowing is unmatched in its total body effectiveness and efficiency. Not only is rowing an amazing cardio exercise, it targets 9 of 11 major muscle groups with each stroke (that's about 90% of your body!). Indoor rowing, even without the added benefit of our targeted circuit training, is one of the most complete exercises available. Members should expect to burn up to 900 calories per hour. Rowing also provides a perfect cross training workout for any athlete, and it is adaptable to any injury or ability.
To try your first week free, visit www.totalrowfitness.com/freeweek CPCA members receive 15% off any package or membership by mentioning CPCA at checkout in studio!
Total Row Fitness: 3655 Roswell Road #204 Atlanta, GA 30342
Phone: 404-806-0026
Visit us at www.totalrowfitness.com
Total Row Fitness was co-founded by husband and wife Elliott and Lauren Smith of Atlanta, Ga. After a ski incident took Elliott away from running for nearly 6 months, he quickly discovered rowing was the only suitable alternative for an efficient, low-impact exercise. Elliott and Lauren decided to start Total Row with the belief that high-quality workouts should be available to anyone, regardless of age or fitness level.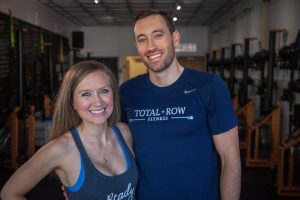 Total Row, located in the Tuxedo Festival shopping center in Buckhead on Roswell Road, offers small group fitness classes as well as personal training. The classes are small enough to provide a customized, scalable experience, but large enough to enjoy the energy of a group fitness class. Total Row's classes are unique, high-intensity, rowing-centric, and great for any age or ability. They offer a variety of classes from all-rowing (Row30, Row45, Row60) to a rowing + yoga combination class (Row + Flow)! Their signature TR45 class incorporates rowing, TRX bands, Kettle Bells, Slam Balls, and more to deliver a total body, low-impact workout!